Custom Plastic & Rubber Extrusions
Less tooling cost - more choices - more parts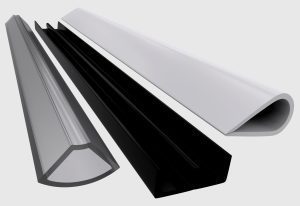 Custom extrusions encompass more than just profiles. A little imagination yields a part with surprising quality, economy and functionality.
Extrusion die costs are typically very economical and one extrusion method is ususally best for given profile, material and quantity. We'll offer the best method for your requirement. Cut to length or continuous cure in bulk (in rubber and flexible plastics), it's your choice.
We also offer unique precision extrusions which, cut to length make good precision washers and sleeves, eliminating more expensive lathe-cut with O.D. grinding. Mandrel curing is also available for rubber, which further improves precision for applications including but not limited to roller coverings. Generous secondary operations sometimes offer an alternative to custom molding.
Options and secondary operations include:
Adhesive tape applied – Color matching – Continuous or cut to length – Cutting, punching, fabricating – Precision cut – Printing – Splice vulcanization – Standard and custom profiles – Tape applied – Washers