Die Cutting & Fabricating
Die cutting and fabricating can be an excellent molding alternative.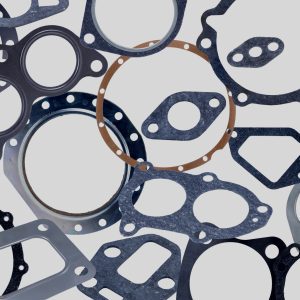 Die cutting and fabricating can be an excellent molding alernative. Die costs are low and cut precision as good as ±.015″ is possible; even tighter for hard-steel dies.
On-site steel rule dies. For die cutting, on-site tooling built at the manufacturing plant keeps up front costs low.
Water-jet cutting and fabricating. Water-jet cutting eliminates tooling costs entirely and while die cut goods are limited to about 3/16″ thickness without compromisiong precision, water jet can go much thicker without risk of an unsatisfactory concave cut profile.
Machined plastics, yet another alternative. Turning and milling utilizing up to 5-axis routing, this is yet another fabricating possibility and another molding alternative.
Volume materials purchasing keeps costs low. Materials are usually a high percentage of the cost of die cut and fabricated parts. Volume purchasing clout for materials also reduces costs. A vast material selection ensures the best material for the job at the lowest cost, from very soft to rigid in all rubber and non-matellic materials.
Standard washer die library. For basic shapes, a large selection of standard dies for washers, for example, eliminates tooling charges and yields excellent part pricing. For rubber washers, also see our lathe-cut rubber link.
Secondary operations are generous, too, with available pressure-sensitive adhesive and corner adhesive or vulcanizing.
Composite – Cork-rubber – Felt – Non-asbestos – Paper – Plastics, flexible and rigid – Rubber, natural and syntheitic, Specialty